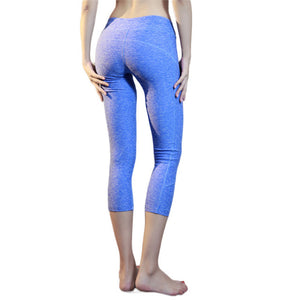 Description
 
This yoga pants for women are made from the highest quality fabrics designed to remove moisture from your body, providing maximum comfort. These quality leggings acts and feels like a second skin and will boost your confidence and passion to try a new workout or advance your yoga practice with a challenging pose while keep you comfortable all the time.
Features 
 
- Color: Blue.
- Material: Polyester and Spandex.
- Size S: 64cm(Waist); 70cm(Hip); 70cm(Length);
- Size M: 68cm(Waist); 74cm(Hip); 71cm(Length);
- Size L: 70cm(Waist); 78cm(Hip); 73cm(Length);
- Premium material which is soft, elastic, breathable and fast dry.
- Our waist yoga pants are soft, stretchy and perfect for a yoga or gym enthusiast's athleisure and wardrobe.
- Great for tummy control, warmth and fashion.
- Perfectly fit to your body, giving you a streamlined look.